News
March 2020- On Thursday 5th March every child brought their favourite book from home for World Book Day. Each class then read their books with their buddies. Everyone enjoyed sharing their stories!
January 2020- KS2 welcomed the NSPCC into school. We learned to 'Speak out, Stay safe' and who our trusted adults are. We know to ring Childline on 0800 1111 if we have a worry and they can help us too.
January 2020- We were joined by PCSO Jo Cato from the West Yorkshire Police Cyber Team. She delivered safety awareness to our parent / carers and key stage two children today. We learned some really important messages about how to keep safe online.
December 2019- The Mini Vinnies visited St Luke's Hospital to take the toys that have been donated by our children and families at school. Thank you for your kind donations!
December 2019- We have had a wonderful week of Nativities! Nursery, Reception and Key Stage 1 all put on amazing performances. Well done to the children and staff for all their hard work.
November 2019- EYFS have had a wonderful day outdoor learning, following the journey of the stickman! We even got hot chocolate and marshmallow, delicious!
November 2019- We supported Children in Need by holding our annual Toy Sale. We raised £200! Well done everyone!
October 2019- Year 6 took learning outside the classroom and went on a hunt for clues about adaptations. We read the clues and matched the statement to one of our plants or animals. Then we teamed up to check we found them all matched them correctly.
October 2019- Parents evening appointments took place and there was a great atmosphere. We were visited by one of our past pupils who was representing St Bede's & St Joseph's Catholic College. Our wonderful kitchen staff also provided a taster menu which went down a treat with our parents and carers!
October 2019- Year 4 visited Nell Bank to learn all about rivers and the water cycle. Their instructor was impressed at how much they already knew and their technical vocabulary!
October 2019- Year 3 certainly looked the part for their Stone Age to Iron Age day. They took part in a workshop and made some fabulous cave art.
October 2019- Year 1 visited Abbey House Museum to learn all about toys through time. We had a great day learning outside the classroom.
October 2019- Year 2 took part in an Outdoor Learning day. They learned about fire while toasting tasty marshmallows!
September 2019- We held our annual Macmillan Coffee morning in school and raised £245! Well done to everyone who donated and also came along for tasty buns and cakes.
September 2019- We were invited to Rowanberries Residential Home for a petting zoo with the residents. Everyone had so much fun! We even brought 'Inti' the inter generational bear back to school with us. We will take him on school trips and activities and our friends at Rowanberries will enjoy finding out about his adventures.
September 2019- Year 5 welcomed a Viking visitor to kickstart their new topic. Even the children and the classroom were transformed!
CSPTSA Awards
Congratulations to the following children- We are so proud! It was a fantastic advert for Catholic Education and a celebration of wonderful talent across our partnership of schools.
Daniel Majekodunmi- Sporting Achievement Award Nominee
Kiera English-Courage in Adversity Award Winner
Molly-Mae Windle- Young Fundraiser of the Year Award Winner
Teanna Ritchie on behalf of the whole school- School- Outstanding Contribution to Art
Raviha Mohtisham on behalf of the whole school- School- Outstanding Contribution to Art
June 2019- Year 6 had a fantastic time on their residential to Northumberland. They visited Alnwick Castle, Beamish Museum, Holy Island to name a few. They made memories that will stay with them forever.
June 2019- On 13th June we celebrated 65 years of Catholic Education here at St Anthony's. We were joined by Bishop Marcus in the morning for a Mass and celebrated in style in the evening! The rain couldn't dampen our spirits. Everyone got involved and a great time was had by all!
April 2019- Year 2 and Year 6 took part in a den building workshop, using their problem solving and team work skills! Look at their amazing work!
April 2019- We had a great turn out for our Early Years Reading Celebration coffee morning! Thank you all for your support.
April 2019- Year 5 had an amazing time at their Residential to Ingleborough Hall. They had an action packed few days and took part in activities such as abseiling and caving. What a wonderful experience.
March 2019- On Friday 15th March we all wore a hat in exchange for £1 to raise money towards the renovation of St Patrick's Church in Bradford. Look at all those hats!
March 2019- World Book Day- We spent the day in our pyjamas to promote the love of reading and in particular, bedtime stories. No snoozing or snoring allowed! The children shared books with their buddies and we ended the day in the hall for a bedtime story.
February 2019- Year 2 led us in a wonderful cross-curricular assembly. We are proud of you all- you have worked very hard. Keep it up! Times tables, division, descriptive writing and fabulous artwork. Wow !
December 2018- What a beautiful carol service from KS2. You should be proud- your singing was like a choir of angels. Happy Christmas from us all.
December 2018- A group of children visited Rowanberries Care Home to sing some carols. They sang like angels and certainly spread some Christmas cheer!
December 2018- The Mini Vinnies visited the children's ward at the Bradford Royal Infirmary to donate toys for the poorly children who will be spending Christmas in hospital. Making children smile this Christmas!
November 2018- We held our annual Toy Sale and wore spots for Pudsey. We raised a total of £260.61! This will be split between Children in Need and the Mini Vinnie Christmas Toy Appeal fund. Thank you again for your donations and continued support.
November- Armistice 1918-2018- We came into the playground to a fabulous display. Our whole school community stood in silence and prayed the Eternal Rest. Such a moving start to the day. Year 6 then led us in an emotional Liturgy and we were joined by parents as we observed a minutes silence to remember all those who lost their lives during WW1.
'Eternal Rest, grant unto them O Lord and let perpetual light shine upon them. May they rest in peace. Amen'
During Autumn 1, KS1 & KS2 have taken part in Outdoor Learning with Phil Lowde. They have taken learning outside the classroom and developed skills such as clue writing, code breaking, identifying leaves and minibeast hunting! EYFS will take part in Outdoor learning during Autumn 2.
September 2018- On Saturday 22nd September some of our brave Mini Vinnies and members of staff took part in a charity abseil in aid of Bradford Hospitals Charity. They all took up their cross for others.
July 2018- We have celebrated 'French week' in school this week with French workshops, activities and blue, white and red non uniform day!
July 2018- We had a fantastic sunny sports day at St Anthony's. Lots of support and encouragement from parents and carers - thank you all!
June 2018- We celebrated OBON day in school by gathering in the hall to sing the National Anthem for the official photographer. Each class then took part in activities to reflect how we can bring everyone together to create a sense of national unity and pride. No matter what size, colour or belief we are, we are one nation.
May 2018- Health Week- Children in years 1-6 took part in First Aid training and learnt some important life skills. We were also visited by the Life Education Caravan and Harold the Giraffe and each class took part in different workshops about making positive health and lifestyle choices.
April 2018- Poet Andy Tooze joined us for World Poetry Day. He inspired the children to write and perform their own poetry, and finished the day with a book signing!
April 2018- On Friday 20th April we held a reading celebration coffee morning for our EYFS children and parents. We had a great turnout and the children loved their celebration books.
March 2018- Our Year 5 children visited Ingleborough Hall for their residential. Taking learning outside the classroom.
March 2018- World Book Day- the children dressed up as their favourite book character and brought their books to school. What amazing outfits!
February 2018- On Safer Internet Day, Steve Dale from the Innovation Centre in Bradford visited school to deliver a Safer Internet Coffee Morning for Parents/Carers and workshops to the children.
December 2017- Our school choir visited the residents at Rowanberries Residential Home to sing Carols and spread some Christmas cheer!
December 2017-
Local Authority Christmas Card Competition
Congratulations to Keira in Y2 who was runner up in this competition from hundreds of entries across the district. Keira met the Lord Mayor for a presentation. Well done to Keira, we are very proud.
November 2017- Our Toy Sale for Children In Need raised a wonderful £209.30!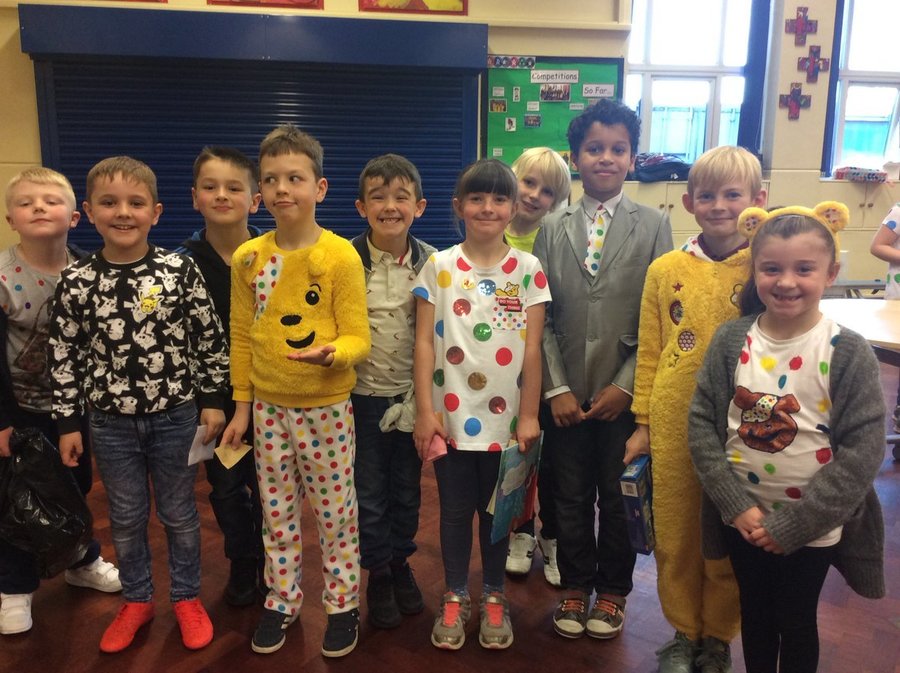 On Thursday 16th November some of our Y2 children visited One In A Million School where they met an Author and brought back a box full of wonderful books!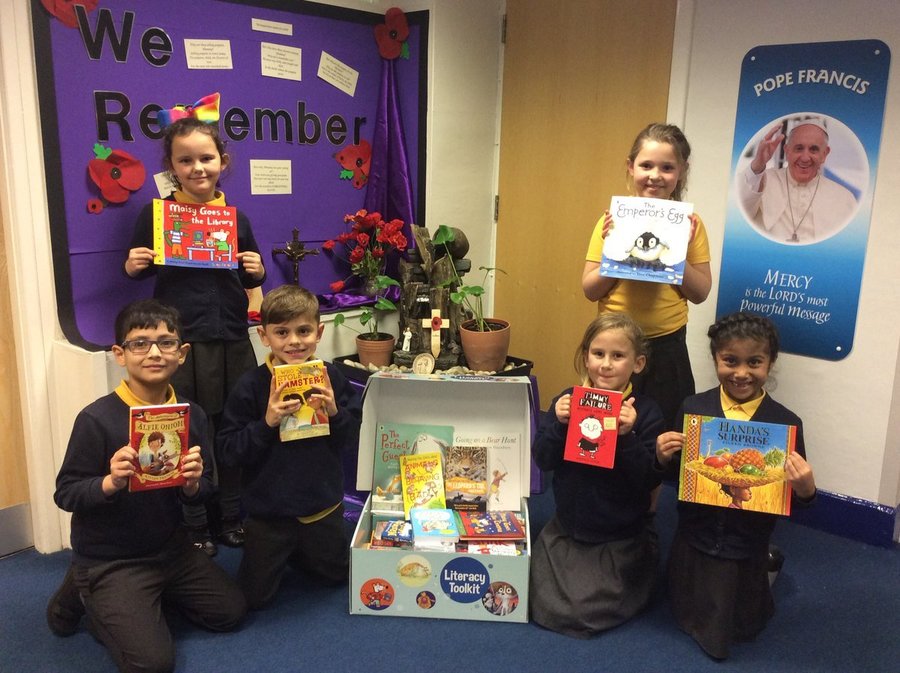 Anti-Bullying Week 2017
All different but all equal
UK Safer Internet Day 7th February 2017 Be the change: unite for a better internet #SID2017 #giveasmile
St Anthony's will be taking part in the UK Safer Internet Day campaign on Tuesday 7th February and the children will be taking part in online safety workshops throughout the week delivered by our local PCSO, Michael Wright.
There will be two competitions running:
KS2 are to design an Online Safety leaflet using their Purple Mash account - logins will be given out.

KS1 will be given a poster template for the children to design.
Two children from each class will win a prize for their efforts.
Deadline: Friday 17th February.
Good luck children!
Parents online safety workshop/coffee morning on Friday 10th February delivered by PCSO Michael - please join us, all welcome.
Sue Dyde visited us at St Anthony's again for a Chinese New Year storytelling workshop for the EYFS and KS1 children. All children were enthused by story, language, participation, drama and lots of giggles! What a lovely morning!
EYFS and KS1 were treated to a fantastic reading workshop delivered by a visitor called Sue who read and performed stories in a magnificent way. See how the children's faces lit up when they heard the stories being told. Magical!
Parents and Carers: Please click the link to see a website (can be downloaded as an app) that reviews apps so you know the content your children may have access too:
On Tuesday 27th September, our Mini Vinnies visited Leeds Cathedral for the Mini Vinnie's Commissioning Service led by Bishop Marcus. They walked through the Holy Door in this Year of Mercy. Well done Mini Vinnies for representing our school!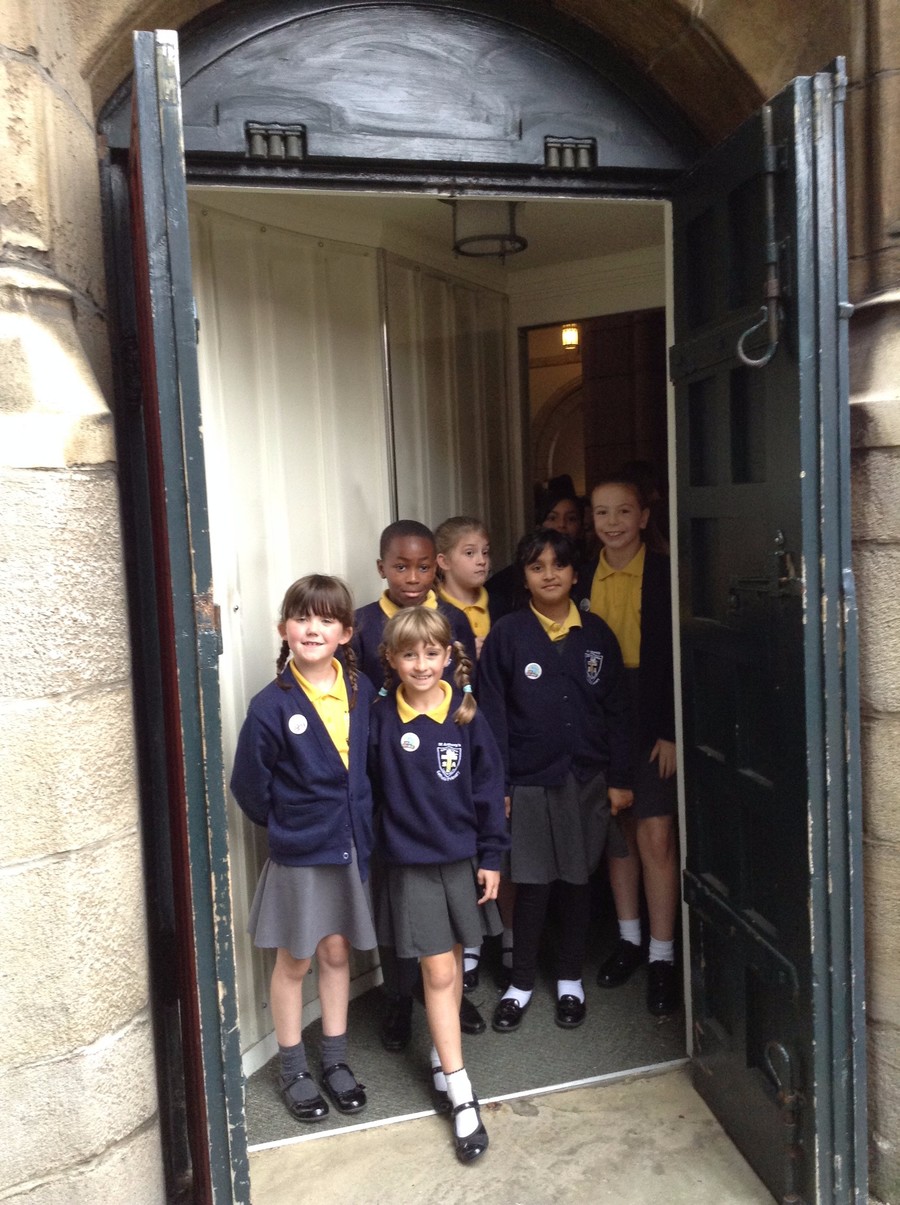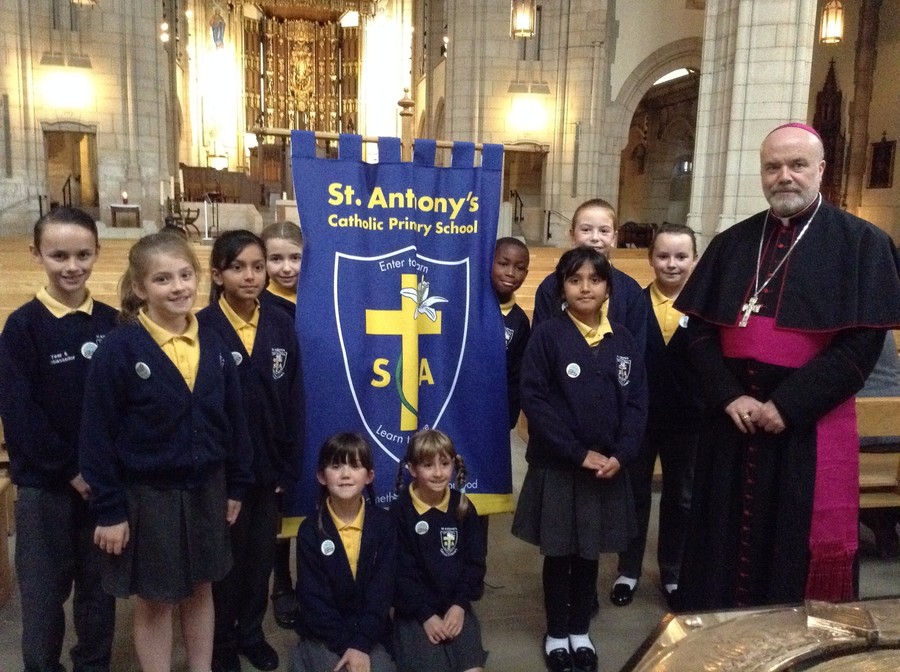 After our Family Mass on Sunday 15th May, our Mini Vinnies held a bun sale to raise money for a chosen charity. The children worked hard and the bun sale was a huge success! There were so many buns the selling continued at school on the Monday. The children should be proud of themselves for raising a whopping £171. The Mini Vinnies will now meet with the Parish SVP to decide who to donate the money too. Keep up the good work!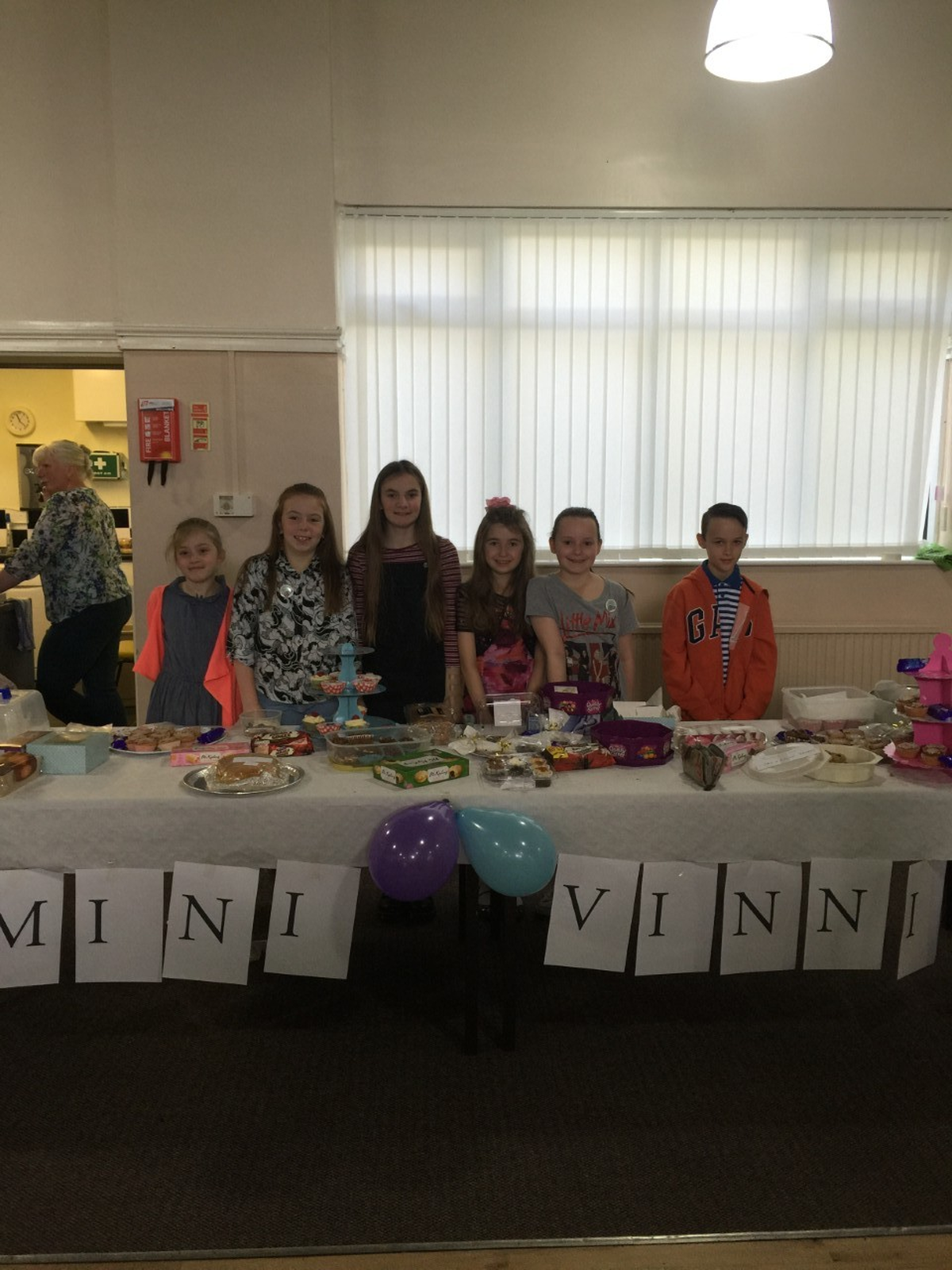 St Anthony's children took part in a May Procession on Friday 6th May. We began in our school hall and processed around the school grounds that led us to our statue of Mary. She was crowned with flowers, the children offered their prayers and said a decade of the rosary. Let's keep Mary the Mother of God in our prayers during this month of May.
On Friday 6th May 2016, four children from our Mini Vinnies visited Saint Anne's Cathedral in Leeds to meet Bishop Marcus and present him with monies raised from our Lentern activities and fundraising. Well done children and thank you parent/carers. Catholic Care appreciate every penny that is donated.
In this Year of Mercy the children also entered through the Holy Door at the Cathedral. Please keep all our children in your prayers.
Happy 90th Birthday to Queen Elizabeth, love from St Anthony's Catholic Primary School.
Reception had a super day on Monday releasing their ' I am special' messages to the world. The children loved watching their balloons fly off into the sky and thoroughly enjoyed guessing where they might land.
We had a very enjoyable day on Friday! Along with the snow the children enjoyed mad hair day and had lots of fun at the spring fare!
Year 3 enjoying their pedestrian training!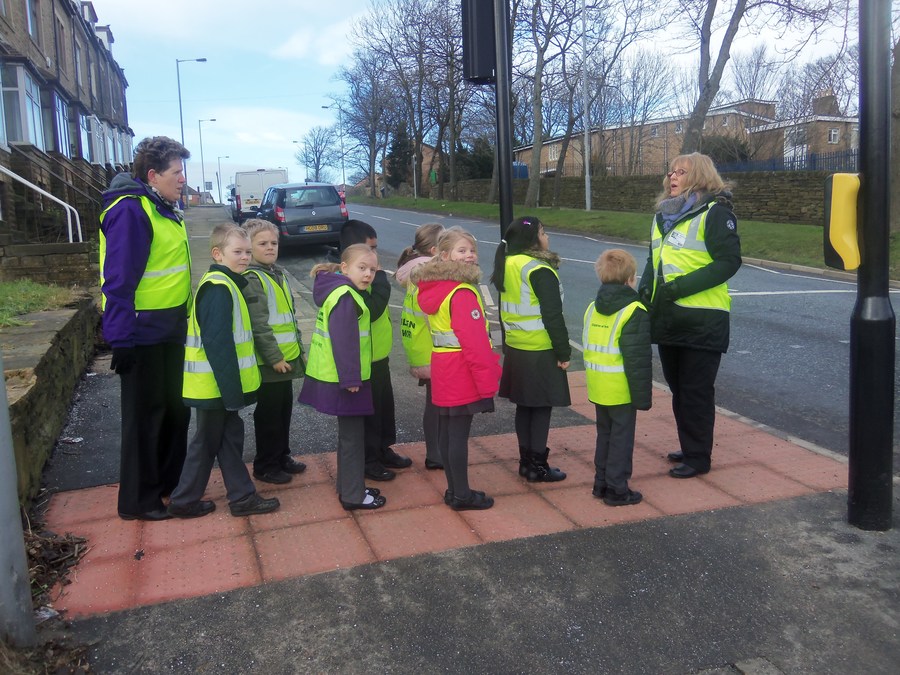 Santa has arrived at St Anthony's Catholic Primary School. The children have enjoyed their Christmas parties!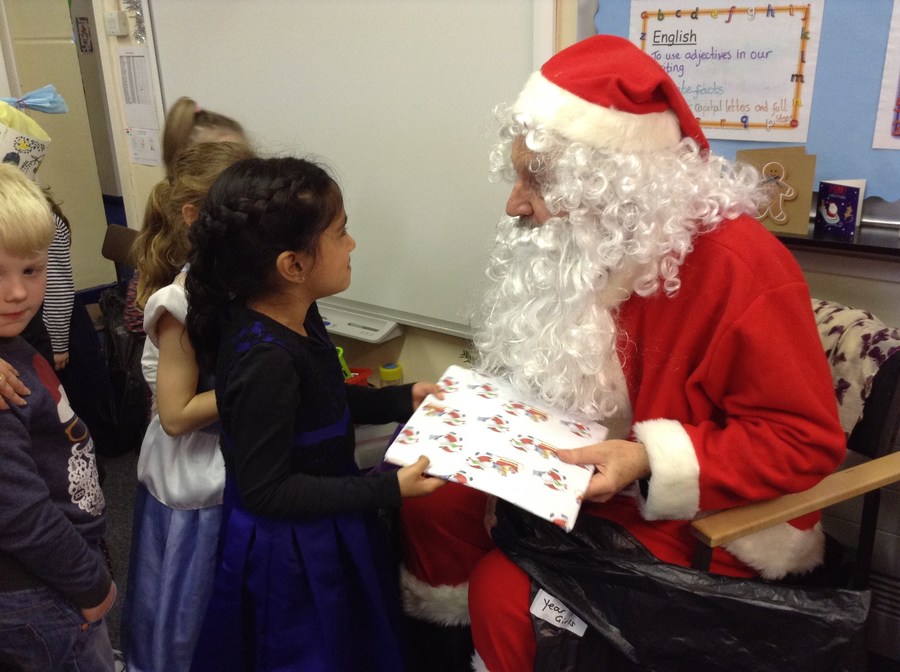 Thank you to all parents and carers of our children that have contributed and donated items that we have requested over the last few weeks. This made our Christmas fair a huge success that all children enjoyed. We appreciate your continued support. Please take a look at photographs taken from the afternoon.
St Anthony's devoted a day of learning to the Hindu festival of Diwali. Visitors from Kala Sangam, a leading Bradford south Asian arts organisation, came into school and delivered story telling workshops to EYFS and KS1. Key Stage 2 took part in dance workshops. We came together as a school at the end of the day to celebrate the children's learning. They helped us to increase understanding and appreciation of the cultural traditions of South Asia. Lots of fun was had by all!
Fun Activity Afternoon
Wednesday 15th July
On Wednesday we held a fun activity afternoon. The children enjoyed various activities such as bouncy castles, go karts and bungee trampolines! The weather was very kind to us and a fun afternoon was had by all! Thank you to everyone who helped out.
Sports Day
Friday 3rd July
Last Friday we enjoyed our annual sports day and the children were inspired by sporting values 'Honesty, Respect, Passion, Determination, Teamwork, Self-Belief'. This was another tremendous event joined by members of our school family. The behaviour of our children was impeccable. Thank you to all staff for organising and supervising. These values go a long way in our everyday life of making a difference to the lives of others.
Pentecost Picnic
Friday 22nd May 2015
The whole school joined for a picnic as a school family to celebrate the end of the Easter season. We celebrate the feast of Pentecost on Sunday 24th May. We were lucky with the weather and the children had a great time!
May Procession
Friday 15th May
May is the month of Mary! The children held a procession around our school grounds then we all prayed the Rosary together outside. Our First Holy Communion children helped lead the service. Thank you to everyone who joined us.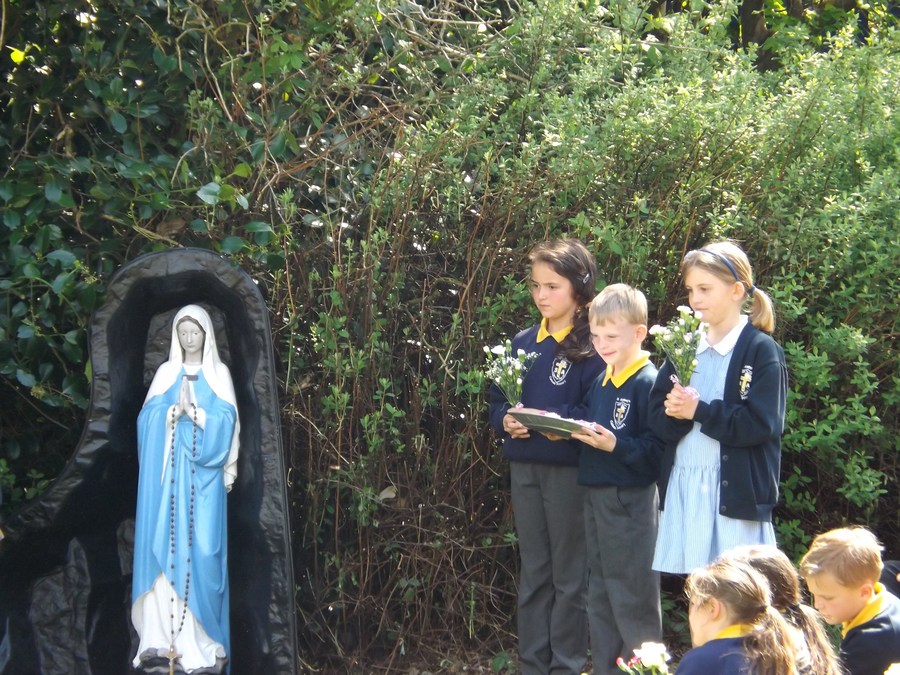 Bradford City Assembly
Tuesday 24th March
We welcomed Ian Ormondroyd, a representative of Bradford City on Tuesday morning to present footballs and medals to those children who raised money for the penalty shootout. He asked the children to pass on his thanks for your generosity and support of this event. Well done and thank you to you all. Congratulations to Poppy, Paddy and Frankie White who received a signed football for raising the most money. Well done!
Poppy Deery: £181.00 Paddy Dockney: £137.00 Frankie White: £135.00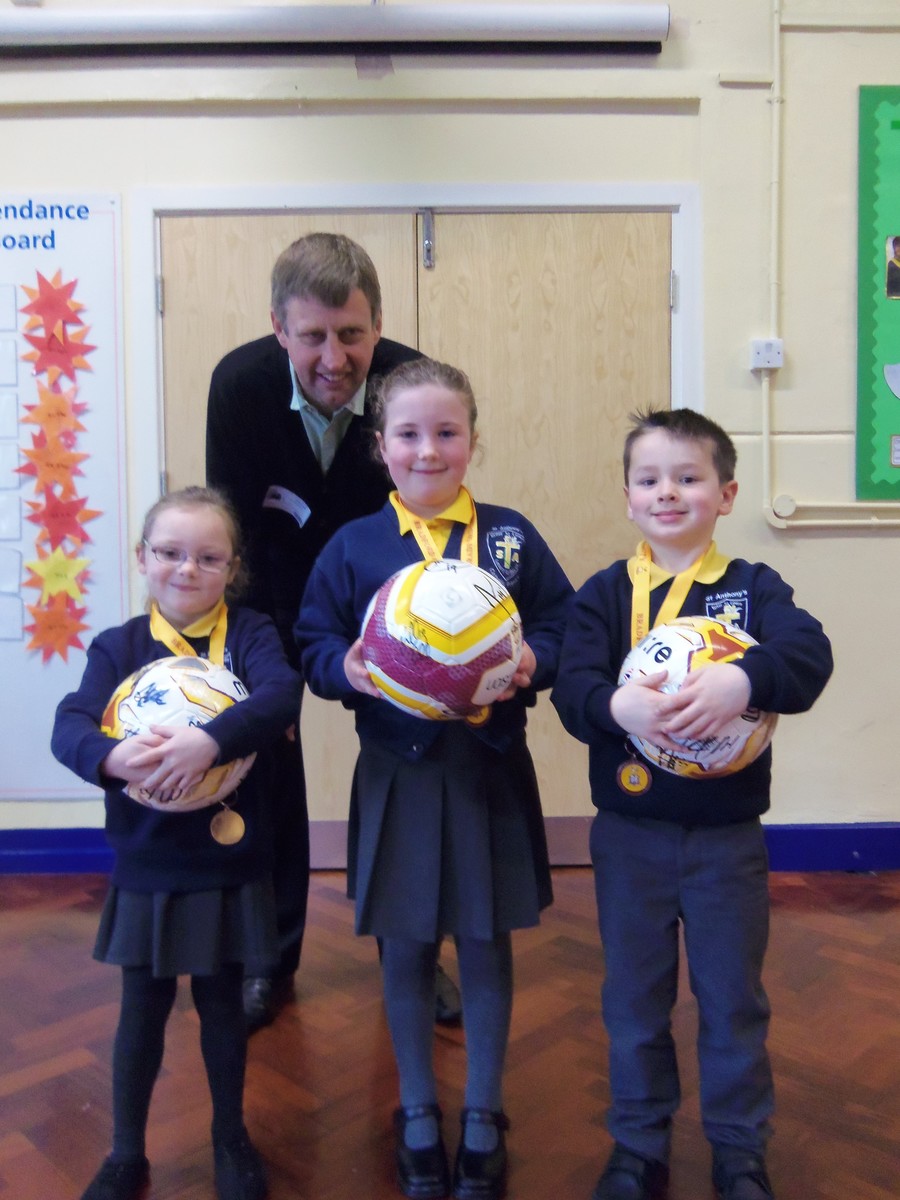 Where The Wild Things Are
World Book Day
On Friday 6th March, to celebrate World Book Day, we were lucky to have West End in Schools visit us. Each class had chance to explore the story of Where the Wild Things Are through dance and drama. The children thoroughly enjoyed an opportunity to go wild!
Winter Art Exhibition- Future House
Wednesday 10th December
Congratulations to Lucy & James Poole who were presented with their prizes at Future House. The artwork on display was amazing. Our own artwork was placed in a really prominent position and was a great advert for our school. Thank you to Mr Bullock for all of his work and expertise.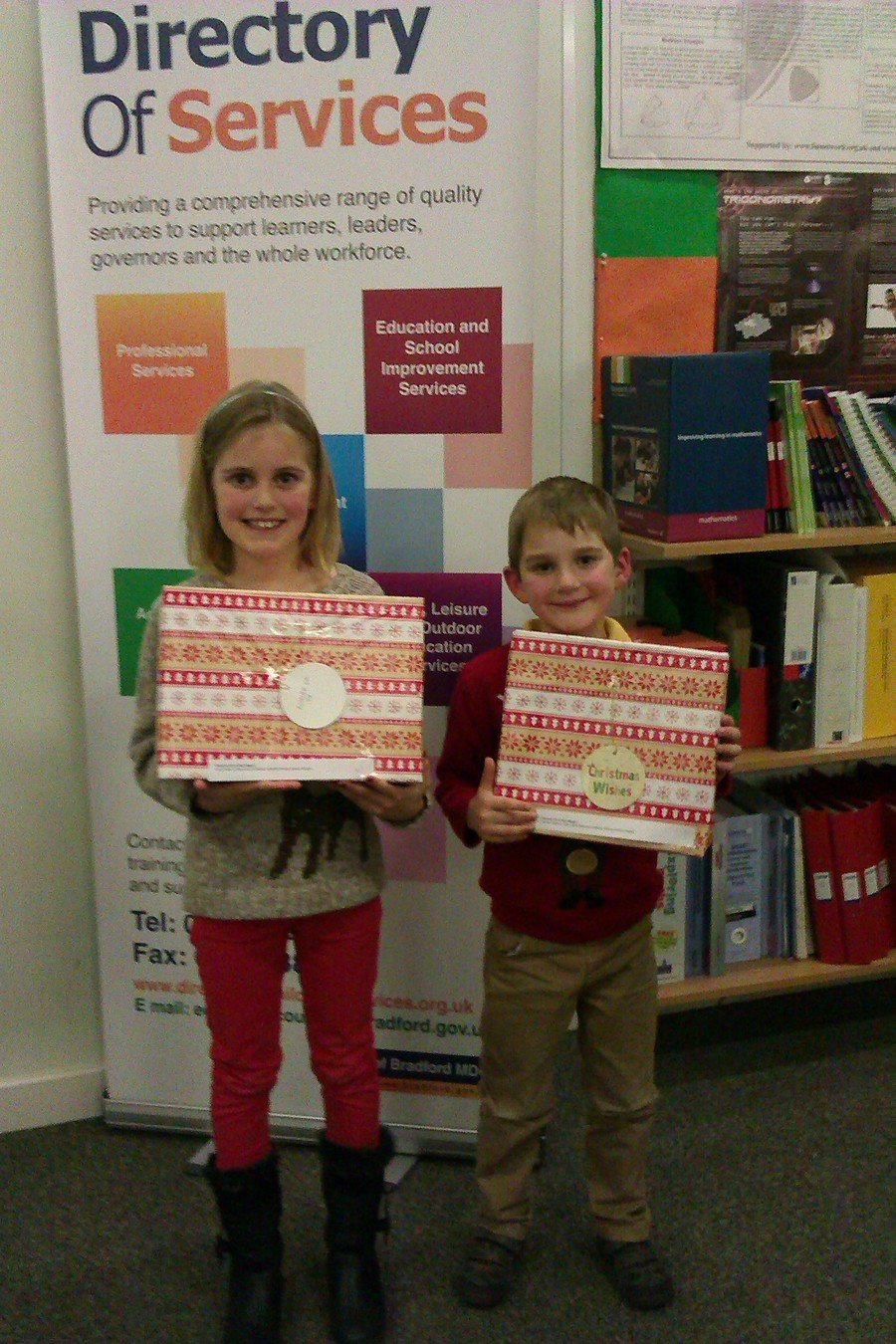 Harvest Liturgy
Friday 24th October 2014
Once again, thank you for your kind generosity in sending in food items for our Harvest Liturgy. The Franciscan Friars have received these gifts and taken them to the St. Pio Friary, where they will be used to help those in need.
September 15th, 2014 - Pope Francis appoints Monsignor Marcus Stock as new Bishop of Leeds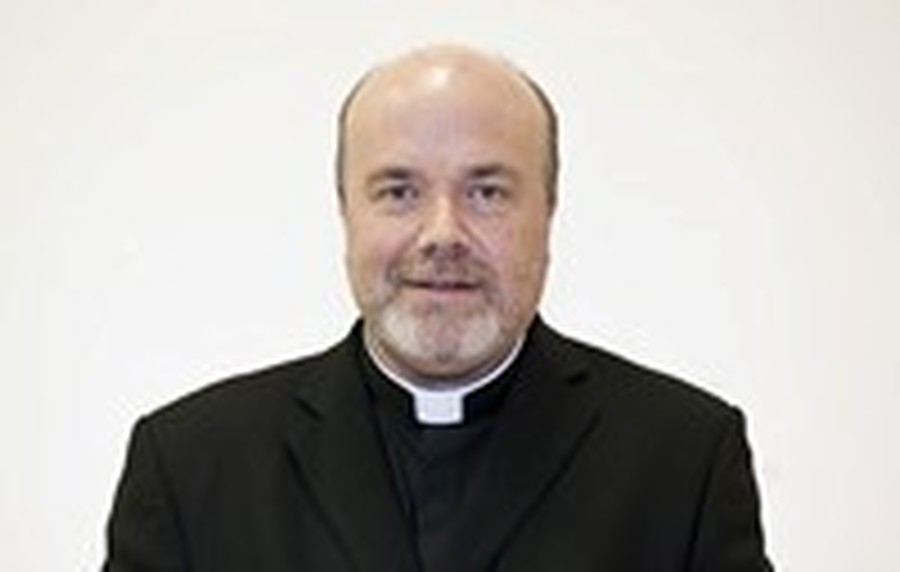 Pope Francis has appointed Monsignor Marcus Stock, currently the general secretary of the Bishops' Conference, as Bishop of Leeds.
He will be the 10th Bishop of Leeds. Mgr John Wilson has been diocesan administrator since former Bishop of Leeds, Archbishop Arthur Roche, left for Rome in 2012 to take up the position of secretary of the Congregation for the Divine Worship and the Sacraments in the Curia of the Holy See.
Bishop-elect Stock was ordained priest in 1988 and served as parish priest across the Birmingham Archdiocese, most recently at the parish of the Sacred Heart and St Theresa in Coleshill. He also served as director of the Diocesan Schools' Commission and since 2009 he has been general secretary of the Bishops' Conference.
Mgr. Marcus Stock, Bishop-Elect of Leeds, said:
"I am overwhelmed at the trust which the Holy Father has placed in me.
I have written to the Holy Father and assured him, as the Successor of St Peter and Supreme Pontiff of the Catholic Church, of my loyal and filial love, and of my intention to give myself entirely to the service of the Diocese of Leeds.
Diamond Jubilee Balloon Launch and Time Capsule Burial
On Friday 4th July, the school community came together and buried our Time Capsule. Each year has made or donated items for the Time Capsule including all our children who attend Xtra Club. We hope that future staff and pupils of St Anthony's will discover the Time Capsule in years to come and appreciate school life in 2014 and how far we have come since the school first opened in 1954.
The Balloon Launch was a huge success. The children enjoyed watching the balloons take off in the breeze. So far we have not received any emails but we remain hopeful!!
St Anthony's Feast Day ~ Diamond Jubilee Celebrations ~ Friday 13th June 2014
After months of planning and hard work, we finally celebrated our Diamond Jubilee on Friday 13th June. The school would like to express their appreciation and gratitude to all those that dedicated their time to making this event a success and to everyone who joined us on the day to make it a very memorable event in the schools history. The day began with a wonderful Celebration Mass held in Church with Chief Celebrant Monsignor John Wilson. The pupils enjoyed a picnic lunch followed by a fun packed activity afternoon. The weather behaved impeccably and we had glorious sunshine whilst we celebrated 60 glorious years.
Freddy Fit!
As part of our Healthy Living Week, we had a visit from Freddy Fit. The children, from Reception up to Year 6, had a very energetic extra PE session with aerobic based activities and competitions. The photos show just how active the children were and more importantly, how much fun they had!
The children across school celebrated World Book Day on Thursday 6th March. With their buddies, children completed book focused activities including reading, ICT, drama, writing and art! Have a look at some of the childrens' fantastic costumes below.
A History of St Anthony's Parish
St Anthony's Catholic School was completed on 27th April, 1954 when St Anthony's became a parish in its own right. The Foundation stone of the school was laid by Alderman John Sheehy, the Lord Mayor of Bradford, in 1953. It was dedicated by the Vicar General of the diocese, Monsignor Henry Thompson.
Mass had been celebrated in "The Barn" since 1948: but then moved to the school, and the first May processions took place from here.
The first parish priest was Fr Thomas Kearns, who is here pictured with the staff at St Anthony's school in 1961. Fr Kearns lived in St Anthony's convent, on Bradford Road, which was owned by the Franciscan Sisters of Littlehampton.
A church needed to be built, and the foundations were blessed in 1959: The new church of St Anthony was designed by Mr J.H. Langtry-Langton Partners. It was opened on the 27th July 1961 by Bishop Dwyer of Leeds
Father Kearns left St Anthony's in April 1966, and was succeeded by Father Patrick Henry (parish priest until 1982). The debt of the building of the church and presbytery was paid off by Christmas 1971, after a great push for fund-raising. This even included the visit of the former Prime Minister, Harold Wilson, who was then leader of the opposition, to the Summer Fayre. The Church was finally consecrated by Bishop William Gordon Wheeler, Bishop of Leeds, on the 2nd October 1974.