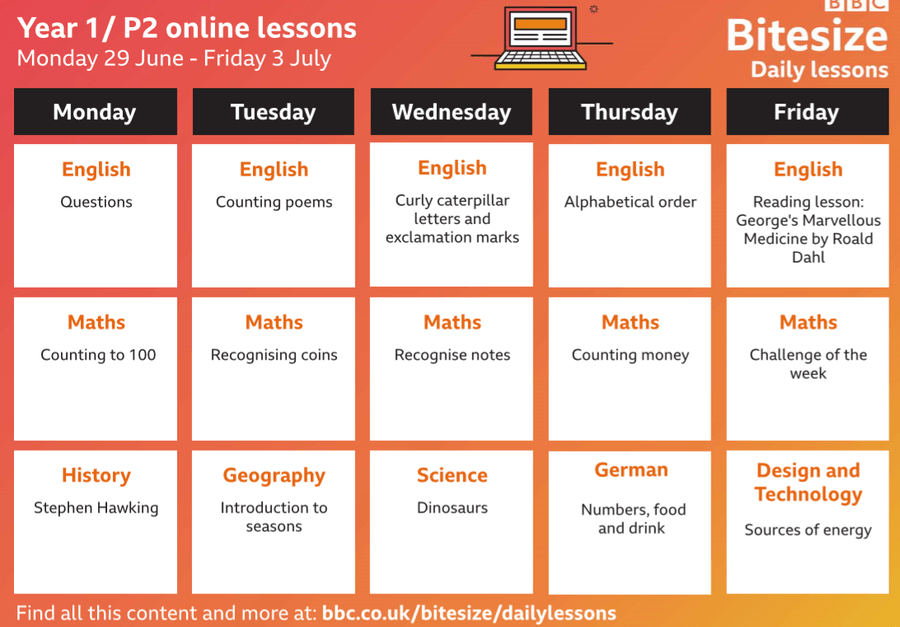 Year One Home Learning Resources
Please see the links below to help with your child's learning at home throughout this difficult time.
Click the link below to access a daily Maths activity in line with our teaching curriculum. Watch the learning video and then complete the activity sheet.
https://whiterosemaths.com/homelearning/year-1/
Phonics Play - click on this link and play games such as Obb and Bob, Tricky Word Trucks and any other Phase 5 fun!
Topmarks - click on this link to play some Maths games to help consolidate your learning.
Twinkl - free resources for all subjects to access and do.
Oxford Reading Owl - set up a login and access the free eBook library.
BBC Bitesize - Find the Year One learning links to all subjects and play a variety of fun games.
Purple Mash - a great resource for creating pieces of work so keep checking for work that will be set.
Education City - access a variety of great learning games. The children are very familiar with this website as we play these games in class.
Times Table Rockstars - have fun practicing your 2s, 5s and 10 times tables as rockstars!
Click here for a Headstart activity booklet for Maths and English. It's a great resource to work through.
Log on to this website to listen to stories - for free!
https://stories.audible.com/discovery

Year One important information:
Mrs Moran will be teaching Monday to Wednesday and Mrs Holdsworth will be teaching Wednesday to Friday. On Wednesday afternoons, Mrs Walton will be in class covering PPA. Mrs Ellis and Miss Scott will be the teaching assistants helping in the class each day.
At break time, a fruit snack continues to be free in Year 1, but milk is chargeable. A letter was sent out before the end of term, but if you missed this, please contact the school office.
If you have any concerns or worries, we will be on the playground in the morning just prior to the bell and immediately after school. We are always happy to arrange a suitable time to meet after school if you have an issue which requires a lengthier discussion.
With best wishes,
Mrs Moran & Mrs Holdsworth
Christmas 2019
Year One took part in our amazing KS1 Nativity this Christmas. All children played an important role in retelling the story of the birth of Jesus. We are so proud of them all! Superstars!
Wednesday 9th October 2019
Year One went to visit the Abbey House Museum at Kirkstall Abbey. It's an exciting trip where the children see what life was like in the Victorian times. They looked at toys and visited the streets where they saw old houses, shops and even a classroom. We compared our items of food from Aldi with the food items in the old Victorian shop.
We had our dinner at Kirkstall Abbey and had a little visit to the toy shop in the afternoon.
We now look forward to inviting our parents and family into school on Wednesday 16th October for our Memory Box afternoon.
Wednesday 2nd October 2019
Year One went for a walk around our local area and to visit the new Aldi store. We walked up in the sun and took our class bear Inti. When we got to Aldi we had a list of items to find and buy. We looked around the shop to see what items were for sale and the prices they were. We are going to compare Aldi to the shops we see at Abbey House Museum on our school trip next week.
Please take a look the reading website below. It will enable your child to access a variety of reading books for free.
Happy reading!
Click on the links below for information on the new curriculum:
Annual Curriculum Plan