The year 2 learning grid has been updated this week and we encourage you to carryout some of these tasks along with those you may not have completed last week. Previous Home Learning grids from earlier weeks will also be accessible through the links below. I hope you are enjoying taking part in your home learning tasks.
Stay safe and healthy.
Mrs Cox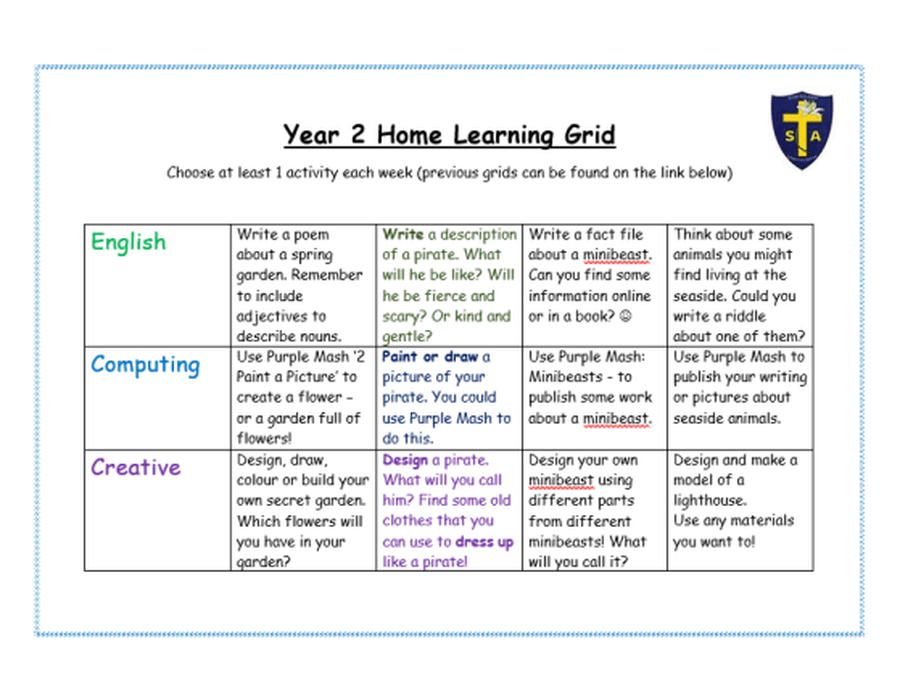 Home Learning
Please click on the links below to download ideas for home learning.
Maths Activities
Writing Activities
Home Learning Information
Science Activities
Links to Useful Websites and Learning Sites
Log on to this website to listen to stories - for free!
Saltaire or Peru?
This half term we will be exploring a local village (Saltaire) and a village in a non-European country (Peru). A visitor from Saltaire Heritage will visit us and we will also visit Saltaire.
During our English lessons we will be writing facts and information about both places, and also about Sir Titus Salt, the man who built Saltaire. We will share some Paddington Bear stories, as he came from Peru!
Capital letters and full stops are important, as always! The children are also being encouraged to write neatly with correctly formed letters.
In our Maths lessons we are revisiting place value, addition, subtraction, multiplication and division. We need to be able to add and subtract two 2-digit numbers (e.g. 34 + 47; 58 – 23). We will also be doing lots of work on fractions of numbers, including equivalent fractions such as 2/4 and 1/2. We will be learning more about measurement – how to measure length, mass, capacity and time. The children in Year 2 need to learn their 2, 5 and 10 times tables so please encourage them to practice. We also need to be able to count in 3s!
Plants is our Science topic for spring. We will be observing new growth around us and planting our own seeds. We will conduct an experiment to find out what plants really need so that they can grow strong and healthy.
UPDATE 20th March 2020
Two pieces of homework have been sent home, along with three weeks worth of spelling lists for most children. Please complete these at home as and when you wish. The above links and websites offer ideas for activities and links to educational sites which you may find useful at this time. I have also sent home a 'home learning' exercise book which the children can use as they wish whilst learning at home. If your family have been self-isolating and have not received any books then please access the home learning grid and newsletter above, and follow the links for useful ideas.
Above all - please look after each other and stay safe :)
Thank you for your continued support.
Mrs G. Cox
Click on the links below for information on the new curriculum:
Annual Curriculum Plan